Deal expired!
This deal has expired but you can still find lots of awesome Themes deals below:
Customize and Brand Facebook Videos with VideoSkin - over 60% off!
Value


$141
Discount


67%
You save


$94
If there's one thing Facebook users love doing, it's sharing. Especially when it comes to videos. So why not take advantage and start customizing your videos to increase traffic to your own website or brand? That's exactly what you can do with VideoSkin, the customizable Facebook video player.
VideoSkin offers up a number of video player templates to start with. Then you can choose to customize as you'd like, including adding your logo, call-to-action buttons, social media share buttons and even e-mail capture forms. And they're all worked seamlessly into the video player itself, as your videos are shared throughout Facebook! Act fast, though, because for a limited time only, you can save more than 60% off the regular price!
VideoSkin Highlights:
Customize Your Facebook Videos
Imagine if you could control how your videos look when shared on Facebook? Well, no need to imagine it, at least not if you use VideoSkin!
Video Skins Library
Browse through the gorgeous collection of video skins to find the perfect one for your video. You'll find everything from super professional skins to plain ol' silly fun ones.
Brand Your Videos
Imagine creating a video that goes viral, only your name is nowhere attached to it. With VideoSkin, you can easily add your logo to any video that you want to share. Even cooler, you can add a hotlink to your logo, so it clicks through to your website!
Social Media Sharing Buttons
Add some popular social media share buttons right on your video itself. Easily let people share on Twitter, Facebook or Google+ with the click of a button right from your video!
Capture Emails
If you're looking to capture some leads, what better way than by going after your captive audience? With VideoSkin, you can place an e-mail opt-in form on top of your videos. It even integrates seamlessly with major email marketing programs such as AWeber, MailChimp, GetResponse, iContact, Constant Contact, and Campaign Monitor. No coding experience necessary!
Encourage Social Shares
Give people a taste of your video but make them work for the whole thing. With a ShareGate feature on top of your videos, users will watch part of a video and must share it on their Facebook wall in order to continue watching the whole thing.
Call-to-Action Buttons
Easily add a Call to Action Button at any point in your video. Encourage click throughs to your site, a special offer or even some affiliate offers. It's a great and simple way to increase interactivity, as well as monetize your videos.
Video Thumbnail Selection
Normally when you share a video on Facebook, the social network selects the thumbnail, title and video description. But with VideoSkin, you have complete control over all these features, further helping to optimize your videos!
Mobile Device Optimization
Since Facebook doesn't allow custom video players to play in their mobile app, you'd think you're out of luck. But with VideoSkin, you're not! You can choose to send your traffic to a mobile optimized and fully responsive landing page or any specific Web page you'd like. Keep your users locked in!
Built-In Analytics
VideoSkin features a load of analytics built right in to the application. You'll easily be able to quickly tell exactly how many times a video has been viewed, as well as how many subscribers and click throughs it's had.
Super Simple Setup
You don't need to be a hi-tech programmer to get VideoSkin going. In fact, you don't even need to know a single line of code! With the simple step-by-step instructions, you'll be up and running in no time!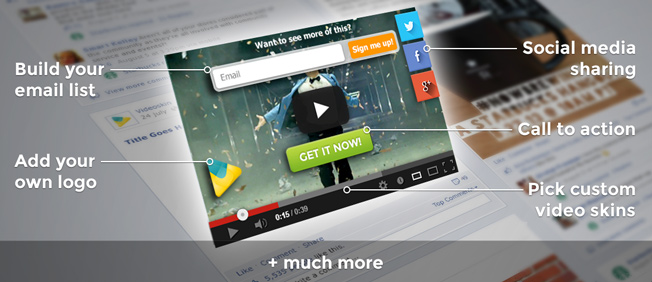 Testimonials: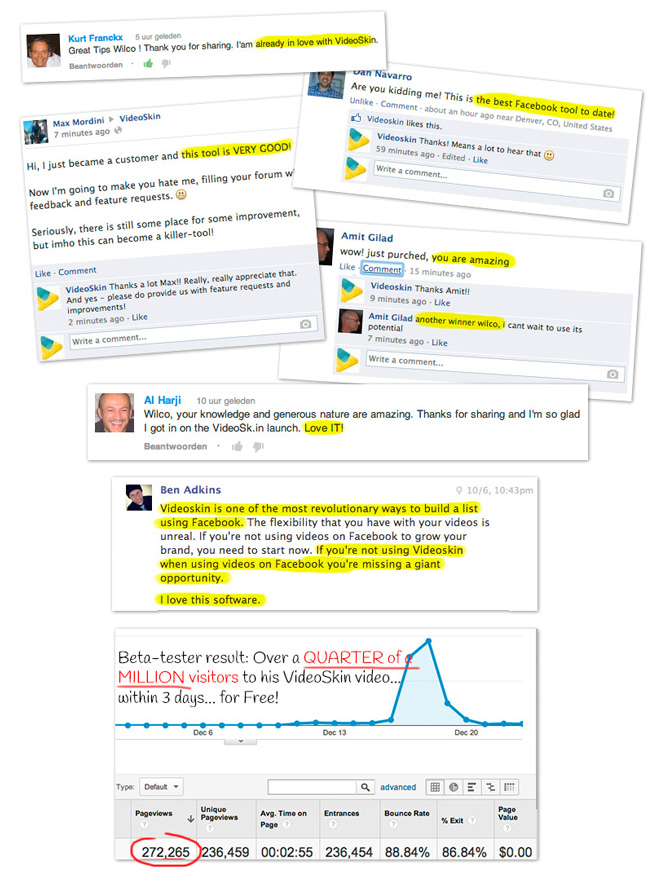 Pricing:
Normally, VideoSkin costs $47 per month or just $197 for a 1-year license. But through this Mighty Deal, you can save REALLY big on 3 different license options:
3-Month License
Pay just $47 (regularly $141)
1-Year License
Pay just $97 (regularly $197)
EXCLUSIVE TO MIGHTY DEAL CUSTOMERS:
Lifetime License (includes unlimited usage!)
Pay just $197
Click the BUY NOW button, select your license and start customizing your Facebook videos today!
Deal terms:
After completing the purchase, you will receive a personal registration URL for instant access into VideoSkin, where you will need to register using your name and email address.
The Agency license allows you to use VideoSkin for personal use, as well as for your clients.
You can use VideoSkin on unlimited videos and on unlimited Facebook Pages.
After your purchased period, you will need to renew your VideoSkin subscription in order to continue using it, unless you have purchased the lifetime license.